Plain bearings
FA.RE.MEC. builds Plain bearings with large steel-to-steel couplings in various construction forms.
Radial spherical plain bearings

Angular contact spherical plain bearings

Thrust spherical plain bearings

SPECIAL plain bearings
In addition to the standard production FA.RE.MEC. builds  plain bearings for heavy applications in which the load capacity or dimensions of the unified plain bearings are not sufficient.
FA.RE.MEC. also joints of SPECIAL construction or according to the customer's design.
The FA.RE.MEC. steel plain bearings they are especially suitable for not too fast tilting and turning movements.
The sliding surfaces are made of hardened steel with special treatment, are particularly resistant to wear and generally require periodic lubrication.
The high strength of the spherical surfaces makes these bearings particularly suitable for applications involving high alternating loads, shock loads or very high static loads.
Furthermore, with the internal division FA.RE.MEC. REGENERATION performs the regeneration of large plain bearings of any brand and type.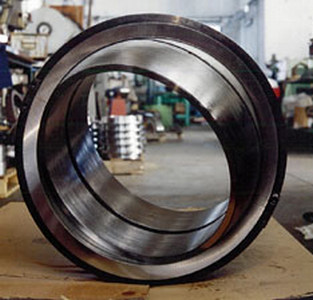 For all information on the production of plain bearings :