SLEWING BEARING PRODUCTION
FA.RE.MEC produces in its Italian plants a wide range of Slewing Bearing  of all types.
Our catalog will help  you search by rolling element type, crown type, inside and outside diameter, as well as your needs on static loads, overturning moments and other parameters.
In addition to the dimensions contained in the catalogue, FA.RE.MEC is able to build a wide range of made-to-measure   Slewing Bearing to support the heaviest uses, such as when large load capacities are required or in the same way to obtain more precise.
This customization of the product is the result of forty years of experience in the field of the construction of special bearings and which has also brought us to the field of Slewing Bearing  to be able to respond to the exclusive requirements that the customer requires.
The standard product range includes Slewing Bearing:
Single and double row of balls
Crossed rollers
With three turns of rollers
All bearings can be with internal or external toothing with modules also according to customer specifications, or without toothing, with diameters up to 5000 mm.
The Slewing Bearing FA.RE.MEC. are successfully used in numerous applications:
Mini Excavators, Aerial Platforms, Solar Trackers, Forestry and Agricultural Machinery, Hoists.
DOWNLOAD THE "SLEWING BEARING" CATALOG (Italian version only)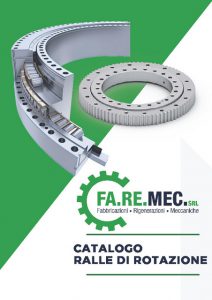 For all information on basic bearings – Slewing Bearing: